Welcome to part 2 of the first in our new series about the history of automotive modification companies. If you want to read part 1 of this article, go to the link at the bottom.
Nitto Entering the Truck Market
Nitto's success with the car market was multiplied when they started focusing on the truck market. Many truck tire sizes were not available in the market at this point. Rims were even being produced by rim companies, like AMT Forged Alloys, with no compatible tire sizes. In the late 90s and early 2000s, Nitto began partnering with many enthusiast-friendly wheel brands.
Before Nitto innovated in the 2000s, one of the greatest difficulties with large tires was balancing. In the early 2000s, Nitto made many breakthroughs with tire balancing, which made tires quieter and more durable. These innovations included thinner strips of material in the spiral wound and jointless construction.
Aesthetically, Nitto answered the market's demand for a more aggressive-looking tire. Nitto released the Dune, Terra, Trail, and Mud Grapplers. The Mud Grappler left a signature tread mark, which was a hit with customers and enthusiasts alike. Many Nitto enthusiasts were using the tread designs in their hairstyles. People were even getting tattoos that referenced the tread designs. While the more aggressive tread was louder while driving than stock tires, it was quiet compared to competitors with comparable treads.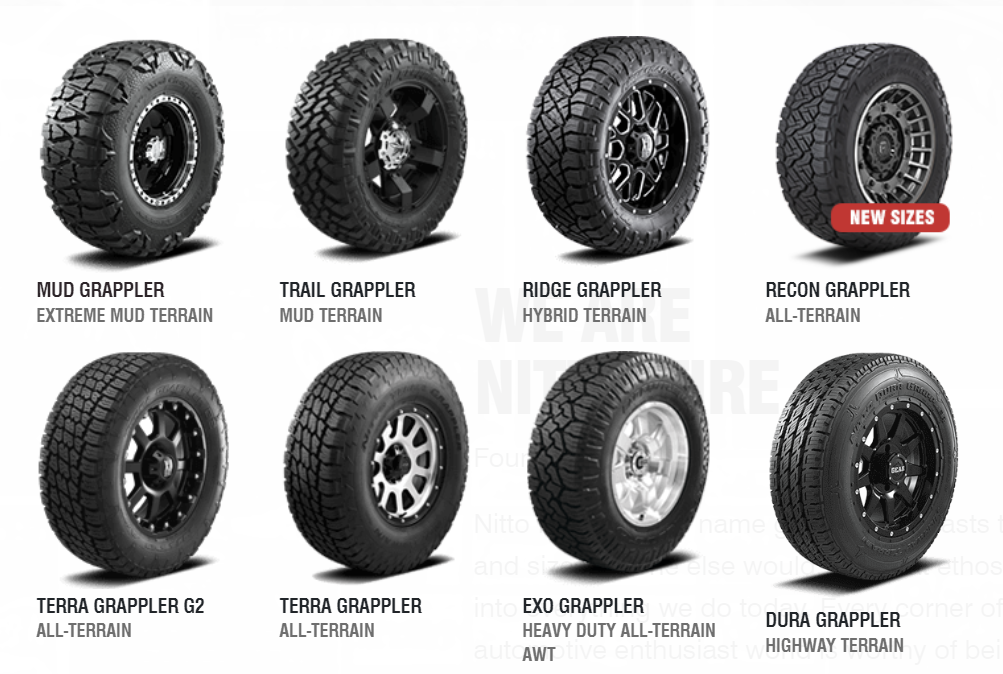 Nitto Today
In 2016, Nitto introduced the ridge grapplers, arguably the most exciting product they have ever released. The Ridge Grapplers offer offroad tread but were tested to be quiet and smooth. In testing, many could not tell Ridge Grapplers apart from stock tires.
In 2004, the Nitto brand was worth more than 100 million dollars. In 2018, Nitto was evaluated at 600 million dollars. Currently, Nitto is believed to be valued at over a billion dollars (estimated). Tomo Mizutani currently sits as President and CEO of Nitto. Nitto went from being close to bankruptcy to being considered the highest-quality provider on the market.
Their engagement on social media exceeds all other tire companies. They even have a larger social media following than both Honda and Toyota. While Nitto was born in Japan, Nitto is currently based in the United States. The company's future is looking bright.
Nitto tires were even featured in the Transformers movies. They also sponsor the Dodgers baseball team. They support STEM programs for youth throughout the country.
The youth market has less interest in automobile modification than during the 90s. They will continue to focus on the United States, as they believe their customer base is strong in the USA.
Nitto in Hawaii
In Hawaii, Nitto tires stand as our top recommended tired brand at Intense Motorsports Maui. While they are not the cheapest, we record almost no returns on Nitto products, and they easily make up for the difference in price with the increase in quality. Our story is similar to Nitto's in that our business changed when we started working with truck modification, as trucks now account for most of our revenue.
If you are nearby and want to see the tires, we have all of them at our physical location and our online store. Check it out! Aloha. Thank you for reading.